These are our highest volume catalog configured parts including features like: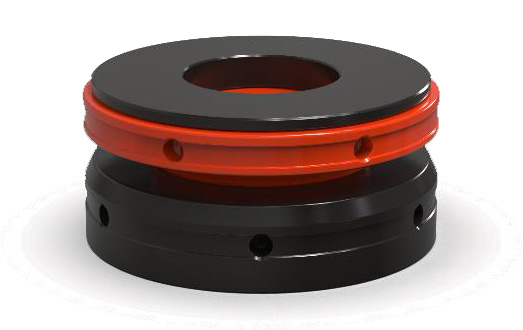 Buttress thread design for maximum strength & stiffness
Tool groove and holes to help installers with installation with all sorts of tools
The ratio of surface area result in the largest footprint in the market
Spherical Top Ring for angular difference up to 4° between machine foot and foundation
ACE-finish: Anti Corrosion Enhanced for maximum protection
Our standardized RotaChock® BasicLine is produced of S355 (DIN1.0570) & finished with our ACE-protection. For maximum protection against rust in extreme weather conditions, our RotaChock® BasicLine can be produced of stainless steel (316L). For maximum strength when handling extreme forces, our RotaChock® BasicLine can be produced of alloy steel (42CrM04).
RotaChock® BasicLine dimension chart
Type
BasicLine
Rated load [kN]
Outside Ø
[mm]
Inside Ø
[mm]
Minimum height [mm]
Design height [mm]
Maximum height [mm]
Standard bolt size [M]
Reduced minimum height [mm]
Optional bolt size [M]
Pitch [mm]
Weight [kg]
RC2
150
51
17
30
34
38
10/16
23
18
1,6
0,4
RC3
200
76
21
35
42
48
16/20
23
24
1,6
1,1
RC4
300
102
28
40
47
53
20/27
28
30
2,1
2,2
RC4.5
400
114
31
45
53
60
24/30
31
33
2,1
3,1
RC5
500
127
37
50
60
69
30/36
32
39
2,1
4,3
RC6
700
152
41
55
65
74
36/39
37
45
2,1
6,8
RC7
1000
178
46
60
68
76
42/45
45
48
3,2
10,1
RC8
1300
203
54
70
81
91
48/52
50
56
3,2
15,3
RC9
1600
229
66
75
84
93
56/64
58
68
3,2
20,7
RC10
2000
254
74
80
89
98
64/72
63
76
4,2
27,3