Tico® machinery mounting products are designed to match today's fast changing industrial environment.
These products ensure that plant and machinery are mounted swiftly and safely, but can easily be relocated to provide production flexibility. The most common reason for employing a Tico® product in a machinery mounting application is for the control of vibration.
The problem – An un-isolated machine may transmit vibrations into the surrounding structure and cause annoyance, other problems, or be susceptible to vibrations being transmitted to itself from its surroundings (e.g. in the case of sensitive test equipment).
Vibrations can cause…
Damage to floors
Damage to machine parts
Transmitted noise
Operator discomfort
Problems with sensitive and accurate equipment
Solution – The basic principle of vibration control is to ensure there is no rigid connection between the machine and its support (e.g. the floor). This is achieved by introducing a Tico® pad between the two.
Benefits of using Tico® machinery mounting materials…
Wide range of Tico® pads catering for a wide variety of applications
Reduce installation time
Improve plant and cost efficiency, by increasing time between maintenance
Extend the working life of equipment
Enhanced working environment through reduction of troublesome vibration and transmitted noise
Tico®Adjustamount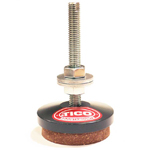 Swift precision levelling of plant and machinery
Stud with base plate containing Tico® S pads
Accurate adjustment for levelling or gradients
Low profile for minimum additional height
Wide range to suit different duties and loads
Tico®CF Mounting Pads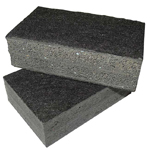 Critical frequency isolation
Unsurpassable isolation down to 8 Hz under load
Effectively isolate plant from structures
Rapid installation – no mechanical parts to maintain
Ranges of standard and non-standard sizes
Tico®Hi-duty Pads and Buffers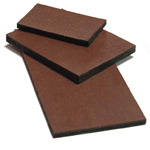 Cushion massive impacts and shock loads
Three grades of very tough and resilient pads
Absorb highly destructive shock loads to prolong machinery life
Retain properties under extreme conditions
Pad composition varied to suit specific duties
Tico®LF Mounting Pads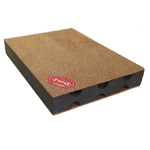 Isolate disturbing frequencies
Scientifically designed bonded-sandwich pads
Excellent plant/structure isolation at low frequencies
Easy to install – no mechanical parts to maintain
Two grades to suit most applications
Tico®S Machinery Mounts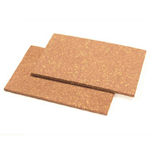 Resilient mounting pads for general plant
Blend of selected cork particles and elastomers
Can eliminate anchor bolts when used with Tico® adhesive
Rapid installation for flexible plant layouts
Attenuates vibration and transmitted noise
Compatible with all types of machine base
Tico® VF/PA
Void filler for gaps between mounting pads
Made from closed-cell expanded polyurethane
Reduces the area of load-bearing pad material
Has no inherent reliance – all load is on the pads