This latest version of our self-indicating DTI allows for inspection on your schedule. The Squirt™ indication withstands the test of time, leaving positive proof that the bolts have been tensioned, validating that the crew have done their job well and that the connection will function as intended.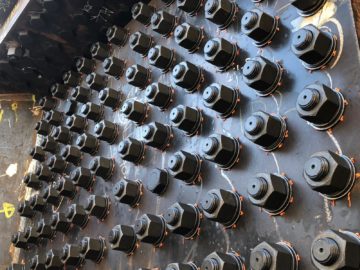 Main features
A clear visual indication when the bolt assembly is tensioned correctly by "squirting" bright orange indicator. By using DuraSquirt® DTI Washers the installer is alerted to poor quality of assemblies and other issues in connection.
A durable squirt indication that lasts on the connection. Engineered to withstand the elements- from wind, heavy rain and extreme temperatures. To prove how much DuraSquirt® DTI Washers can withstand, it was run through an automated dishwasher for 1 year. Despite the daily punishment of heated turbulent water and detergent, the squirt media was still visible.
Complete indication occurs after minimum tension has been achieved.
Simple to use and easy for installers and inspectors to see when the required tension is achieved. Not affected by poor torque tension correlation factors such as weathering, poor lubrication and damaged threads.
Independently tested from -50°C to +104°C.
Orange Silicone
The silicone has a shelf life of 5 years. When installed the silicone becomes fully cured omitting a powdered textured, this powered remains visible on the steel structure for a period of 3-4 weeks. This normally allows enough time for inspection of each bolt assembly pending weather conditions as wind and rain may affect visibility.