Benefits of the RotaChock®
There are a number of crucial benefits in using a RotaChock® compared to other procedures or products: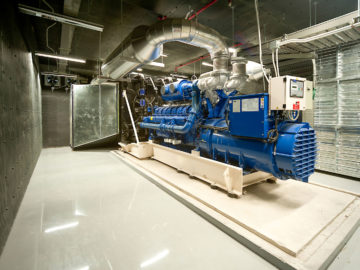 Speed
A RotaChock® is installed quickly. A machine set up on a RotaChock® can generally be realigned and secured within one day. In comparison: using epoxy resin chocks, it takes at least three days for the machinery to function again, due to the resin\'s relatively long curing time.
Making traditional steel filler elements takes even longer, and labor cost make it fairly expensive.
Optimum contact surface
The RotaChock® has a spherical bearing that ensures the best possible contact surface, even if the foundations and the machine foot are not parallel. In addition, the RotaChock® is height-adjustable.
The combination of these two features avoids "soft foot", the situation where the foot of a machine or equipment does not properly link up to the base it is mounted on. Parallel soft foot and angular soft foot are the most frequent causes of poor alignment.
Any desired torque
The RotaChock®'s behavior is that of a solid steel chock, and the RotaChock® allows the foundation bolt to be tensioned to any required torque. Epoxy chocks, in contrast, have a maximum load of 3.5N/mm2. This relatively low load often results in bolts that are almost loose.
High loads
RotaChock®'s competitive edge is that it has a big footprint: the surface area of the lower ring that is in contact with the foundation is greater, so the pressure exerted on that surface is less. The RotaChock® also uses non-metric screw threading. Studies have shown that this allows the RotaChock® to take 1.5 to 2 times greater loads.
As a result of the reduced pressure at the surface and the higher loads, a chock with a smaller diameter than usual can be used.