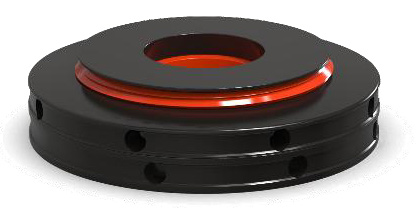 In cases where the standard RotaChock® BasicLine won't fit the available space between the machine and the foundation, the RotaChock® SlimLine probably will!
With an overall height starting at only 20mm or 13/16" the slim line version will suit most of the retro-fit applications while still offering an adjustment range of 10mm or 3/8".
Our RotaChock® SlimLine is produced of 42CrMo4 (DIN1.7225) & standardized with an ACE-finish. For maximum protection against rust in extreme weather conditions, our RotaChock® SlimLine can be produced of stainless steel (316L).
Rozměry RotaChock® SlimLine
Type
SlimLine
Rated load [kN]
Outside Ø
[mm]
Inside Ø
[mm]
Minimum height [mm]
Design height [mm]
Maximum height [mm]
Standard bolt size [M]
Pitch [mm]
Weight [kg]
RC3-SL
250
76
28
20
25
30
16/27
1,6
0,6
RC4-SL
300
102
31
20
25
30
20/30
2,1
1,1
RC5-SL
600
127
41
25
30
35
30/39
2,1
2
RC6-SL
900
152
41
30
35
40
30/39
2,1
3,2
RC7-SL
1200
178
54
30
35
40
39/52
2,1
4,9