The seemingly humble O-ring is an exceptionally versatile sealing device. Applications ranging from garden hose couplings to critical aerospace or oil and gas duties make it the world's most popular volume produced seal.
We have been making top-quality O-rings since this sealing method was introduced in the 1930s. Today we stock many thousands of types and sizes in our most popular materials – including Rapid Gas Decompression (RDG)-resistant grades – ready for same day despatch.
If the rings you want are not available off-the-shelf, we can precision manufacture them within hours, if necessary. With our 'lean' manufacturing plant and flexible production schedules, we can meet industry's most urgent requests.
All stocked ranges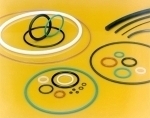 Our stocked O-rings include metric sizes and inch sizes to a range of international, national and industry standards.
These are held in a variety of general and high performance elastomers to suit the vast majority of industrial and specialised oil and gas sector applications.