Elastomers – Pharmaceutical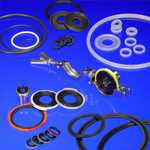 James Walker®'s pharmaceutical grades of ethylene-propylene-diene, fluorocarbon and silicone elastomers have been independently tested and certified to United States Pharmacopeia (USP) Class VI. In addition, we offer two DuPont Kalrez® grades with USP Class VI.
This stringent biological evaluation has been designed to ensure that products manufactured from the material will be non-toxic, and suitable for use in selected medical devices or in contact with injectable drugs.