Safety is Power, The Worlds Strongest Self-locking Nut!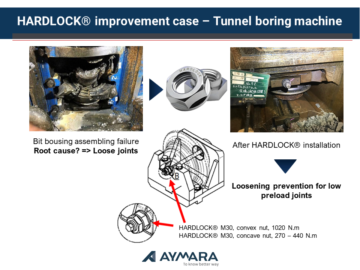 A tunnel boring machine (TBM) also known as a "mole", is a machine used to excavate tunnels with a circular cross section through a variety of soil and rock strata. They can bore through hard rock, sand, and almost anything in between. Tunnel diameters can range from a metre (done with micro-TBMs) to almost 16 metres to date.
Damage to bit housing assemblies can cause delays and lengthen tunnel boring times. Several TBM makers have turned to HARDLOCK® nuts to prevent loss of preload in joints. Companies like JIM Technology Corporation, EM Korea Co., Ltd., Kawasaki Heavy Industries & Hitachi Zosen Corporation, IHI Corporation, Robbins Company,…have turned to HARDLOCK® nuts for bit assemblies.
To send a detail and summary UP-TO-DATE presentation please contact us on info@aymara.cz (Czech, English and Polish version).