Safety is Power, The Worlds Strongest Self-locking Nut!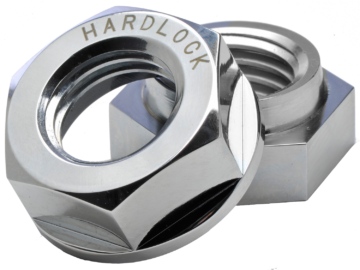 When you need fail safe fastening performance in the most demanding vibration environment trust HARDLOCK® nuts to meet or exceed your expectations!
The primary reason for loosening in bolted joints is a drop in the initial clamp load occurring due to external forces such as impact and vibration. To battle this you need to eliminate the play (gap) between the threads of the bolt and nut. Play will lead to not only shortened life span but also bolt brakeage which can result in catastrophic accidents. Based on finite element analysis (FEA), the HARDLOCK® nut has a self-locking effect 1000 times more powerful than a general hex nut. This level of self-locking is equivalent to the connection strength of welding, adhesives and rivets, far beyond a comparison to general hex nuts.
Note: Except standard rim and basic type, thin, cap and flange type of HARDLOCK® nut also available.
To send a detail and summary UP-TO-DATE presentation please contact us on info@aymara.cz (Czech, English and Polish version).