Safety is Power, The Worlds Strongest Self-locking Nut!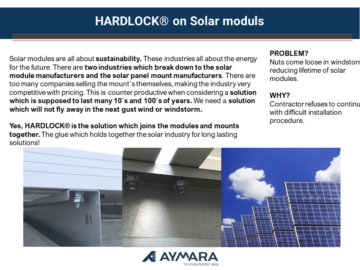 Solar modules are all about sustainability. These industries all about the energy for the future. There are two industries which break down to the solar module manufacturers and the solar panel mount manufacturers. There are too many companies selling the mounts themselves, making the industry very competitive with pricing. This is counter productive when considering a solution which is supposed to last many 10s and 100`s of years. We need a solution which will not fly away in the next gust wind or windstorm. Yes, HARDLOCK® is the solution which joins the modules and mounts together. The glue which holds together the solar industry for long lasting solutions!
To send a detail and summary UP-TO-DATE presentation please contact us on info@aymara.cz (Czech, English and Polish version).