Safety is Power, The Worlds Strongest Self-locking Nut!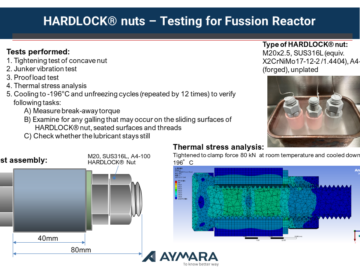 Recent HARDLOCK® nuts testing size of M20x2.5, SUS316L A4-100 (forged), unplated to be intended for the toroidal coils of fusion reactor including testing under cryogenic temperatures.
Main results (simplified):
1. No galling was found on the contact surfaces after Junker Test and after cryogenic test (cooling to -196°C)
2. No fracture or thread stripping after proof load test
3. No relative rotation (loosening) was found on all the specimens after cryogenic tests
To send a detail and summary UP-TO-DATE presentation please contact us on info@aymara.cz (Czech, English and Polish version).