Safety is Power, The Worlds Strongest Self-locking Nut!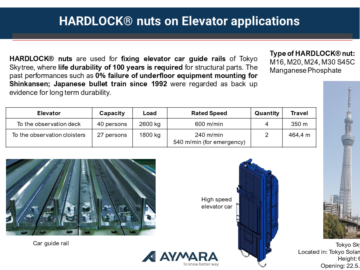 HARDLOCK® nuts are used for fixing elevator car guide rails of Tokyo Skytree, where life durability of 100 years is required for structural parts. The past performances such as 0% failure of underfloor equipment mounting for Shinkansen; Japanese bullet train since 1992 were regarded as back up evidence for long term durability.
Learn more: HARDLOCK®
To send a detail and summary UP-TO-DATE presentation please contact us on info@aymara.cz (Czech, English and Polish version).