Applied Bolting Technology – The best way to bolt!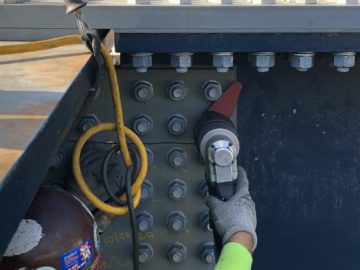 Squirter® DTIs make visual inspection easy with their bright orange indication media. Since this indication media is temporary, feeler gages are still used for inspection.
DuraSquirt® DTIs do one better because their indication media is permanent (unless actively removed). The media has been engineered to withstand abuse from front exhaust guns, wind, heavy rains, heat, and cold. This latest version of our self-indicating DTI allows for inspection on your schedule as the squirt material withstands the test of time. They leave positive proof that the bolts have been tensioned, which validates that the crew has done their job well and that the connection will function as intended.
Learn more about Applied Bolting Technology.