SmartBolts® DTI™ in the mining industry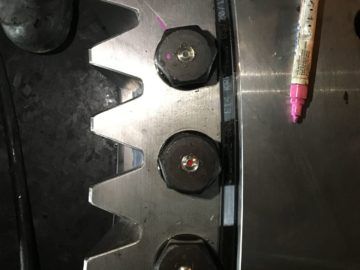 A photo from a customer how SmartBolts® save their slew bearing in their excavator. SmartBolts® kit was supplied for a brand new slew bearing. Their external contractor had installed the bolt, only a few SmartBolts® had not changed colour from red to black. Upon final inspection, it turns out the fitter had not fully tightened that bolt. SmartBolts® saved that bearing, the contractor and the site a lot of money. The bolts were tightened to spec, the indicator turned black.
Not only are our bolts more cost effective they are responsible for saving millions of euros in lost down time. Let us help you! Simple, effective and easy!
To send a detail and summary UP-TO-DATE presentation please contact us on info@aymara.cz (Czech, English and Polish version).