Safety is Power, The Worlds Strongest Self-locking Nut!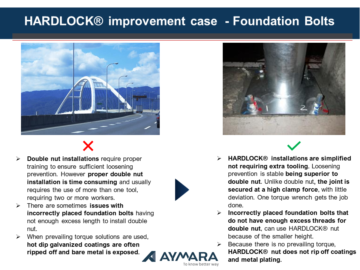 HARDLOCK® nut was first trialed to remove maintenance in hard-to-reach places and narrow places that don`t allow for much movement because only a torque wrench is required. This led to the realization of the stability of HARDLOCK® nuts installation. HARDLOCK® nut was also a solution for improperly installation foundation bolt, being a smaller height solution. Last but not least, HARDLOCK® nut stopped problems with bolt rusting when previously prevailing torque nuts were used.
To send a detail and summary UP-TO-DATE presentation please contact us on info@aymara.cz (Czech, English and Polish version).